We'll we've been back in Canada for a week. Sigh.....it was such a wonderful trip that time inevitably goes by far too quickly. Hawaii is incredible! We spent a few days on Maui and then a week on Kauai. I love Kauai so much, and would consider giving up everything and moving my family there if I could! I'd probably miss the snow though.
Teagan had so much fun in the sand and the waves -- and she LOVED the
roosters
on Kauai. Mom and dad, not so much. They are everywhere and crow at all times of the day and most of the night. We had a little family with five chicks that visited our patio several times during the day, and Teagan would run to the sliding door to give her best rooster impression each time she saw them. It was pretty cute!
Here a couple of my favorite photos from the three thousand or so that I took. I've also included a bunch of links for background on some of the places we went visited
The sunrise over
Haleakala Crater
. One of the benefits of having a body clock on Edmonton time (which is three hours ahead of Hawaii), is you are usually awake before the sunrises.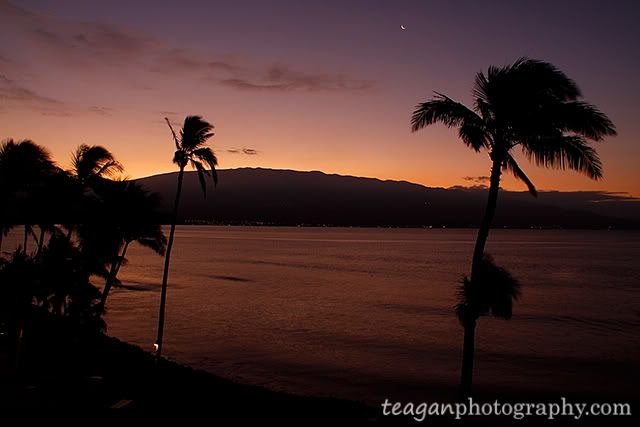 My child was born for the water! Here she is at
Turtle Town
, her first introduction to the sand and the ocean.
This was a really cool black sand beach (
Wai' Anapanapa Beach Park
) in Hana, Maui. At the tip of the rocky point there is a hole in the volcanic rock that the ocean would come shooting up through....like a whale's blowhole. Fun to watch, but not fun to clean salt spray off my camera.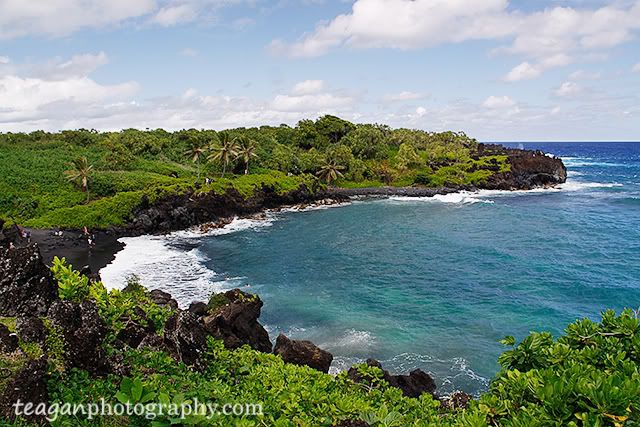 I am not one for sitting around the pool or on a beach for hours, so on a down day in Maui I took Teagan to the
Surfing Goat Dairy
. She loves animals (like her mom) and found the goats especially hilarious when they would try to lick her. And the dairy makes wonderfuly mild tasting goat cheese, which they freely let you sample.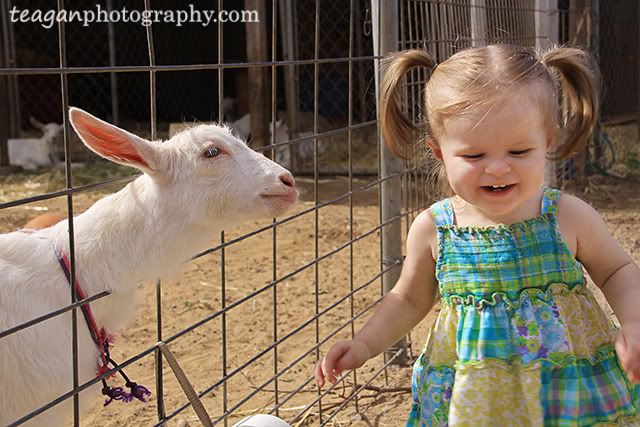 On my husband's and my unofficial honeymoon to Hawaii in 2006, I fell in love with
Plumeria
flowers. So much so that I found a company in Canada that sold plant cuttings to grow here. I tried and failed miserably to grow a plant! So I was very excited to come back to Hawaii and take some pictures of these beautiful flowers.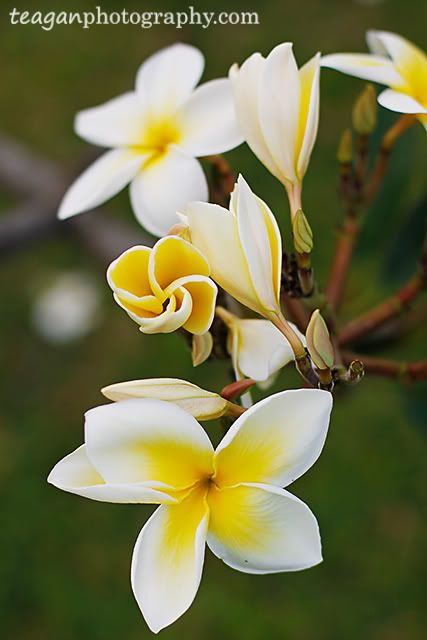 As we were taking off from our short stopover in Oahu on the way to Kauai, I looked out the plane window and spotted the shadow of our plane. Then I felt immediately jealous of all those people who live within walking distance to that great looking beach!
Teagan and I playing along the ocean on Kauai's eastside, also known as the Coconut Coast due to the many palm trees in this area. Although you can't really tell from this one stumpy looking tree in the photo.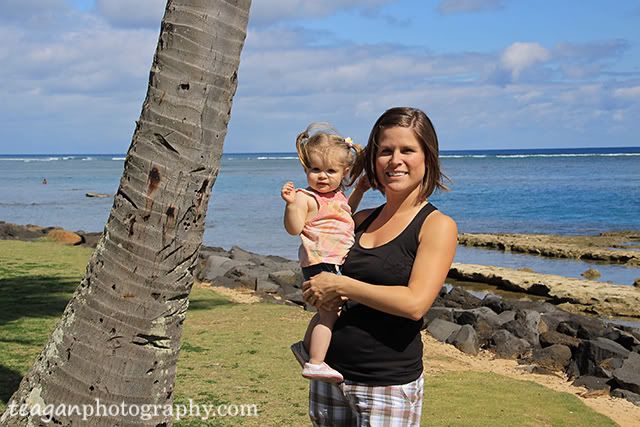 My husband and I did a day of hiking the
Kalalau Trail
along the Napali Coast in Kauai, and
Ke'e Beach
is at the beginning/end of the trailhead. Gorgeous beach! But pretty treacherous conditions for swimming or snorkeling in the winter time.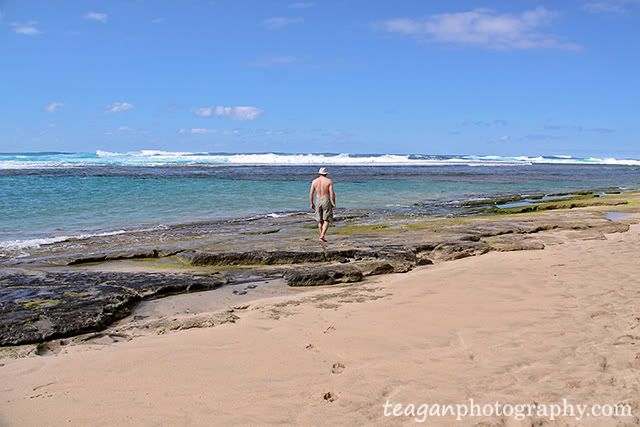 Queen's Bath
looks so much different in the winter than the summer. In fact there was a security guard who talked to us before we hiked down the cliff, warning us that we were not to go in the water. But after a few seconds of watching these waves, I can't imagine anyone would want to swim in the winter. But the colour of the water here was so amazing!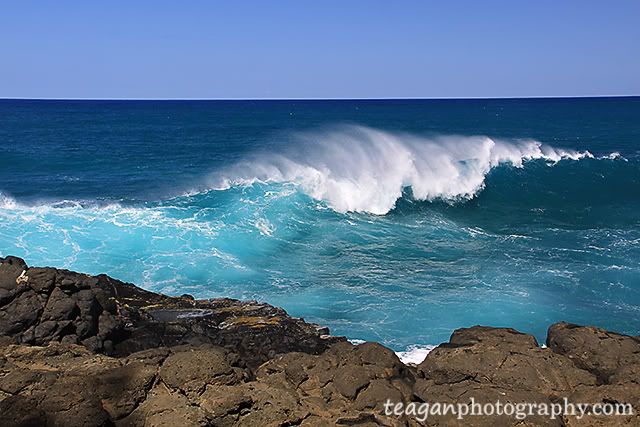 Since there are no places to snorkel in Edmonton (although there are fish in the North Saskatchewan) we took a catamaran trip along the Napali Coast and went snorkeling in a turtle cleaning ground. Not sure what that means other than there were a lot of turtles. I'm not a very confident snorkeler, but on this trip I finally wrapped my head around diving under the water with the snorkel and not breathing in ocean water. Seems like a no brainer! Ha ha. I got up close with this
Honu
(Green Sea Turtle) floating in the current.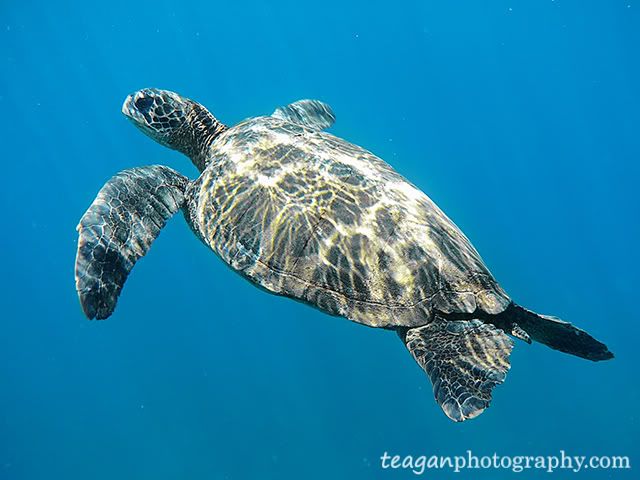 And every trip to Hawaii is not complete without a
Luau
. I take Polynesian dance classes at home with
Tropical Breeze
, and it's always so fun to see it performed where the dance came from. And of course I can't forget about the food. I meant to take a picture of the buffett, but was so hungry that I forgot about everything but eating. The modern luau's always end with a
Samoan Fire Dance
, which is such a spectacular dance and the perfect end to a great evening and an amazing trip.